Events
November 5, 2015, 7 p.m.
Open to the public

Slover Library, Sargeant Memorial Collection
235 East Plume Street Norfolk, VA
http://www.sloverlibrary.com/events/
November 9-10, 2015
Members-only events

National Vietnam and Gulf War Veterans Coalition Board Meeting and Leadership Luncheon
Holiday Inn National Airport Hotel Crystal City, VA
http://www.veterans-coalition.org/

For interviews and other publicity matters or to arrange speaking engagements:

Contact Amy
To write to me:

P.O. Box 6051
Norfolk, VA 23508-6051
An American in the Basement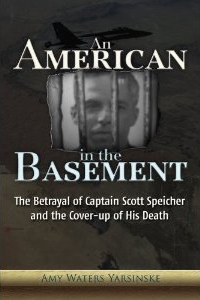 Winner of the 2014 Next Generation Indie Book Award for General Non-Fiction
The story of navy captain Michael Scott Speicher – the story of betrayal and cover up that cost a man his life – can now be told and it is one that you come to understand is one of history repeating itself. Speicher's story is – no question - the seminal case in the ongoing saga of America's prisoners of war and missing in action. An American in the Basement documents what happened to him from beginning to end and reveals for the first time information that has never been told to the American public – information no one was ever meant to find out.