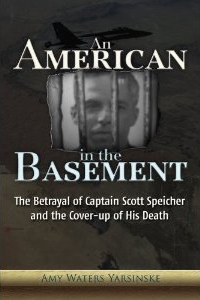 Winner of the 2014 Next Generation Indie Book Award for General Non-Fiction
An American In the Basement
The story of navy captain Michael Scott Speicher – the story of betrayal and cover up that cost a man his life – can now be told and it is one that you come to understand is one of history repeating itself. Speicher's story is – no question – the seminal case in the ongoing saga of America's prisoners of war and missing in action. An American in the Basement documents what happened to him from beginning to end and reveals for the first time information that has never been told to the American public – information no one was ever meant to find out.
There is something else, something you should all know: secrets that end up costing a man his life are the hardest to keep. The guilt and the pain that comes from it are indescribable to those forced to live with the burden of what they know. When I interviewed, spoke to and provided counsel to those who tried to help Scott Speicher, men and women who provided valuable information, context and eyewitness testimony, I always thanked them on Scott's behalf. To more than one of them this expression of thanks was gut wrenching. "If I were Scott I wouldn't thank any of us who stood by and did nothing," said a member of the evaluation team that convened immediately after Speicher's shoot down on January 17, 1991. This was the same group of military officers and "men in clothes" that began the cover up that sealed Scott Speicher's fate.
"This thing cost a good man years of suffering and eventually his life, and it cost a wife her husband and children their father; there is no thank you or forgiveness for such a thing." Pausing, he continued: "My motives aren't pure, at best I'm trying to extinguish my own guilt; what's done cannot be undone… I never spoke a word to anyone until…the guilt caught up with me and it was far too late. I will never be able to make up for the decision I made to forget and move along. I just try to honor him [Scott Speicher] by being a good father, grandfather, husband, friend and countryman. Thank you so much for taking up this fight for those of us who wouldn't."
After reading his story, each and every military operator in any Western military, and each and every parent, family member or friend of one, should seriously question the validity of the promise made by America's leadership and the military chain of command to do everything in their power to search, locate, assist and recover all alive prisoners of war and missing in action. History proves that this promise is mostly political and, worse, could mean nothing at all. When you read Scott Speicher's story you'll understand why.