This history of th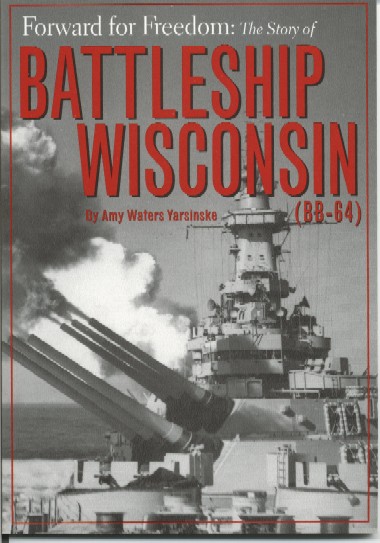 e Big Wisky was commissioned by the nascent USS Wisconsin Foundation in 2000 and published in 2001. Berthed at Nauticus, the Battleship Wisconsin is one of the largest and last battleships ever built by the U.S. Navy. Forward for Freedom, also the ship's motto, will take you back in time to experience this majestic ship that earned five battle stars during WW II. If you want to check out the Big Wisky in person, visit this site for more information: http://www.nauticus.org/exhibits/battleship-wisconsin
With the state motto of Wisconsin emblazoned on the ribbon below the seal of her ship's insignia, the "Big Wisky" has navigated the globe to honor the initiative of her namesake state to move "forward" for freedom and best serve the interest of the United States abroad.  The battleship's silhouette was designed to highlight the Wisconsin's powerful sixteen-inch guns, exceptional girth and strong armor, and is remarkable for its crossed cutlass and sword that represent the combat readiness of the enlisted personnel and officers aboard the BB-64.
D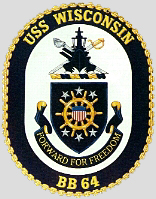 ark blue and gold are the colors traditionally associated with the United States Navy.  The ship's wheel in the crest's center is symbolic of navigation and leadership and reflects Wisconsin's global reach and seaworthiness.  The smaller shield is taken from the coat of arms of the  United States and was chosen for Wisconsin's insignia to tie the ship's mission to America's rich heritage was well as that of the state of Wisconsin, which uses elements of the same shield on its state flag.
During World War II, the Wisconsin was a vital player in the United States' victory over Japan and the establishment of the American navy as second to none one the high seas.  She earned five battle stars for her Second World War service and another for Korea.  The battleship's total number of battle stars – six –  is reflected in the stars around the ship's wheel.
The state of Wisconsin's motto, which dates to the 1850s decided that the motto should be descriptive of the direction the state was headed, and where the people should look at all times.  In an effort to keep this motto clear and understood by all concerned, the state of Wisconsin opted for the less-traditional English version of their motto, ignoring the tradition of Latin phrases invoked by most states in the Union; hence, "Forward for Freedom" is emblazoned on the ship's insignia.