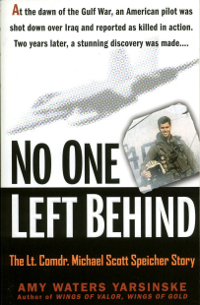 On the opening eve of the Gulf War, an American pilot was shot down over Iraq. Two years later, the stunning discovery of the wreckage set of an investigation that, despite government insistence to the contrary, proved that the pilot had not only survived the crash, but was captured and might still be alive today…
Amy Waters Yarsinske, a former intelligence officer and POW/MIA expert, breaks the incredible true story of the first American pilot shot down during the Gulf War – found alive eleven years after his own government left him for dead. No One Left Behind was her first book on this critically important case that would shake the long-held perception that POW/MIA was synonymous with Vietnam.
Around midnight on January 16, 1991, Lt. Comdr. Michael Scott Speicher launches from the deck of the USS Saratoga in the Red Sea, joining a fleet of forty F/A-18 Hornet set to deliver the first air strike of the Gulf War. It is a mission he wasn't initially scheduled to fly – and from which he would never return. Moments after an assault by an Iraqi MIG, Speicher's plane reportedly vanishes in a blazing fireball over the Baghdad desert. The next day, Secretary of Defense Dick Cheney and Chairman of the Joint Chiefs of Staff Colin Powell tell the public that Speicher was the first casualty of the Gulf War. He is listed as Killed in Action. His young wife and family are devastated.
Two months later, a colonel in the Kuwaiti secret police claims to have been in the same hospital ward as a captured American pilot. In December of 1993, pieces of a wrecked F/A/18 hornet are confirmed to be Speicher's downed Hornet. Six months later, a military investigation begins. On January 10, 2001, on the basis of reemerging evidence (brought to light partly thanks to Amy Yarsinske's dogged research), Speicher is officially declared Missing in Action, the first time in history that a U.S. serviceman's status has ever been changed.
Tracking this explosive story for eight years, Yarsinske interviewed top government and military officials, diplomats, pilots, informers, and Iraqi defectors. The result is a sunning true account of the denials and cover-ups that obscured an essential fact: Speicher actually survived. In No One Left Behind, she takes readers behind the intrigue and the lies to solve this ten-year-old mystery and unearth the truth of what really happened that dark night over Iraq in 1991.
Get your copy of this controversial book via third party sellers on Amazon.com, E-Bay.com or any number of other online sellers.
Amy Waters Yarsinske was submitted for the Pulitzer Prize for Journalism for her six-part series in the Virginian-Pilot "Dead or Alive?" on Scott Speicher, written with Lon Wagner. The series won a Virginia Press Association Award for Feature Writing, 2003.
No One Left Behind won Publishers Weekly Listen Up! Award for Audiobook Nonfiction Book of the Year, 2002 and ForeWord Magazine's Gold Medal for Audiobook Nonfiction Book of the Year, 2003.
What's been written about No One Left Behind:
"Ms. Yarsinske makes the case for the prosecution. She paints a picture of military ineptitude and deliberate cover-up that challenges conservative assertions that the army is the only government agency that works. [No One Left Behind] is a challenge to those who cite the Gulf War as exorcising the demons of Vietnam. Until the mystery of Speicher is resolved, at least one demon still hovers. — Richmond Times-Dispatch
"Drawing upon more than 500 interviews, government documents, intelligence case files, correspondence and other materials, Yarsinske describes an investigation allegedly plagued by mistakes and purposeful neglect. — The Kansas City Star
Get your copy of this controversial book
---
From the back cover:
"There is enough evidence to bring this whole situation into question. [The United States should] 'pursue every avenue' we can to find out what happened…that's an American tradition."
– Senator John McCain (R-Arizona), author of Faith of My Fathers
"The fact is, there continue to be reports from what would have some degree of credibility that he's still alive."
– Senator Bob Graham (D-Florida)
"[Speicher's] story is one fo excessive American caution…at worst if is one of lies and cover-up..Either way, it amounts to an extraordinary betrayal of the U.S. military's proud boast that 'no man is left behind."
– The Times (London), March 14, 2002
My question is in reference to an overriding principle, it seems to me, of what we stand for within our military that is synonymous with our American values….And I think in underscores the issue that we leave no one behind. I think unfortunately ye, doe to past mistakes now viewed in eleven years of 20/20 hindsight…that that is what we did with reference to a young man by the name of Michael Scott Speicher, who was the first pilot shot down in the Gulf War, back in 1991."
– Senator Pat Roberts (R-Kansas), before the Senate Armed Services Committee (at the time, Roberts was petitioning the U.S. military to change Speicher's status from MIA to POW and what he got was Missing-Captured)
Copyright © 2012 by Amy Waters Yarsinske
Published by:
Dutton – A member of Penguin Putnam Inc.
375 Hudson Street, New York, NY 10014
www.penguinputnam.com
---
Reader reviews from Amazon.com.
No One Left Behind, the Audio Book, is available from Listen & Live Audio.
Winner of the ForeWord Magazine 2003 Book of the Year Gold Award for Audio Non-Fiction
Winner of the Publishers Weekly 2002 Listen Up Award for Non-Fiction
Scott Speicher – Dead or Alive? By LON WAGNER AND AMY WATERS YARSINSKE, The Virginian-Pilot© December 30, 2001
The story as presented by CNN.com:
Report suggests missing pilot alive in Iraq, Friday, January 10, 2003.
U.S. probes fate of pilot downed in 1991, Tuesday, April 8, 2003.
CNN LIVE TODAY: Search for Scott Speicher; Aired April 17, 2003 – 10:38 ET
B B C News: Perspectives on Iraq "The POW Hunter"
Site Dedicated to Scott Speicher: P. O. W. Network
Review: Publishers Weekly